Harvesters 1470 G
The 1470G is John Deere's biggest harvester model. In terms of technology, the 1470G is virtually the same as the 1270G, but it has the bigger CH9 boom and the different front frame it requires, as well as bigger tyres and bogie axles.
Thanks to the new Final Tier 4 engine, the 1470G's fuel economy is great: consumption is even 10% less than the IT4 engine, but power and torque have increased by more than 5%. The engine reacts quickly to changing loads and the high torque with a wide rpm range enable fuel efficient and productive work.
Features and specifications:
- powerful and far reaching CH9 harvester boom
- levelling and rotating or fixed cab
- comfortable working environment
- twin pump hydraulics 210 and 180 cm3
- harvester head options (H270 Series II, H480C, H415, H290)
- boom reach 8,6/10/11 m
- engine power 200 kW
- TimberMatic H-16 and JDLinkTM monitoring systems
- Processing Power Control (PPC) system
- The FT4 engine and the entire fuel line can use 20% biodiesel.
John Deere ForestSight service solutions maintain the reliability of the machine and ensure high productivity. Our comprehensive service network brings maintenance and spare part services as well as the expertise of technical support close to our customers.
The G-Series is more than a machine.
Take a closer look at the characteristics of John Deere G-series harvesters.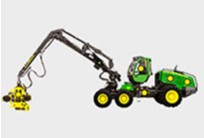 Request quotation